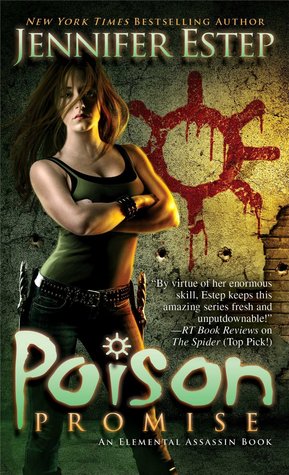 ☆☆☆☆.5/☆☆☆☆☆
We're at book #11 in the Elemental Assassin series and they keep getting better and better.  Poison Promise  introduces readers to Gin's latest threat —a drug creator/dealer named Beau Benson. When Bria's (Gin's sister and cop) informant gets killed during her quest to bring Benson down she sets off a chain of events that puts both sisters lives at risks. And as usual Gin Blanco cleans up the mess with style.
A long awaited foe also shows up in Ashland towards the end of the book, which will make for an intense book #12. I honestly don't think Blanco will ever get a moments rest. She is forever going to be fighting for her life. I think the series should end with her and Owen sailing off into the sunset somewhere where she can finally get some peace.
The plot was fast-paced and kept me interested. I like the way Jennifer Estep takes on the characters and stories in these books. There are few series' that make me feel like I know everything about the characters and feel totally immersed in their world whenever I turn the page—for me this is one of them.
The only issue I had with this books is that it was too good! I read through it a few days. Now the wait begins for book #12!