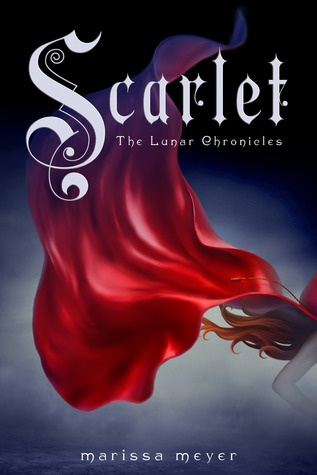 ☆☆☆.5/☆☆☆☆☆
Marissa Meyer takes on the tale of Little Red Ridding Hood in book #2 of The Lunar Chronicles series.  Scarlet lives on a farm with her grandmother in Rieux, France and they sell produce to local businesses.  Her grandmother goes missing and the local authorities do nothing to help when a new-to-town fighter named Wolf (of course) volunteers to help her solve the mystery and bring her grandmother back home.
When I began this series I didn't realize each book would introduce a new character into the mix and I must admit  I wasn't really excited about Scarlet—but that quickly changed once I began reading and learned more about the series.
Scarlet is a strong, independent character, not unlike Cinder which I think is great. Meyer seems to have a knack for creating great three dimensional female leads.
I overall enjoyed reading Scarlet, but I think Cinder plot wise and world wise was way more intriguing. I loved New Beijing, the little shop Cinder worked in—just everything about it. I could imagine it and picture everything perfectly. I feel the sense of wonder I felt in the first book wasn't as present in this instalment.
Book #3 will introduce Cress (Rapunzel) and I anticipate her backstory and place in the series. It will definitely be a game changing book, considering Prince Kai's insane decision involving the Lunar Queen. He basically used a band aid to stop a gunshot wound; pretty ineffective. Things in New Beijing are definitely going to get interesting.
**
What did you think of Scarlet?