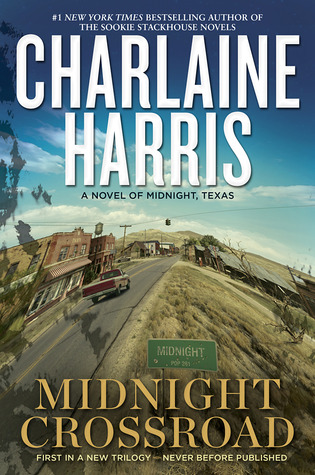 ☆☆☆/☆☆☆☆☆
This is the third Charlaine Harris series I've read and the first one that took me awhile to get into. Midnight Crossroad is a very slow moving story about a town (Midnight) in Texas, where not that many people live, and those that do live there have some pretty interesting secrets.
This series takes place in  the same world as Harris' Connelly series. It took me awhile to notice this since it's been a few years since I've read it, but Manfred is a key character in the Midnight series.
For those that haven't read the Connelly series Manfred is a psychic who's gift is rather sometimeish. He moves to Midnight after his grandmother (who also had the gift) passes and he's looking to set up his online psychic business. The folks of Midnight are welcoming and friendly but when it comes to their individual pasts their lips are sealed. That is until a missing woman turns up dead and the all the towns secrets slowly unravel.
"He tried to catch you?"

"Yes. He liked to kill things, you know."
I will say that the murder mystery wasn't easy to figure out, right up until it was revealed I thought it was someone else, but it just took so long for the story to move forward. I appreciate backstory and learning about each character but it felt like the story dragged a lot. With these types of books that deal with a murder and figuring out whodunit, theres usually a creepy buildup to the reveal. In this book I didn't feel it. It was sort of : this is the town, here they are as they go on about their day-to-day lives, here is the guilty party. I just thought there could have been more. I wanted to feel chills on the way to figuring out who the murderer was, because when it was finally apparent I was creeped out as hell. If that feeling was prevalent throughout the book, it would have been a much better, can't-put-this-book-down read.
Besides that it was a solid story. If you read it, look out for Mr. Snuggly he is definitely the scene stealer of this book. I'm interested to see what happens in the second book of the series.
Let me know what you think!